(photo credit: greenpacks.org)
This past week, Governor Mitch Daniels "celebrated" the 5th anniversary of his program Major Moves.
Although this program has been a collosal waste since day 1, the Courier & Press decided to publish this...
http://www.courierpress.com/news/2011/jun/29/no-headline---ev_majormoves/
Gov. Mitch Daniels hailed his Major Moves highway deal as "Indiana's Louisiana Purchase" on Thursday as he celebrated its five-year anniversary.
This has been no Louisiana Purchase. It's been more like a highway land grab...
http://www.alltolled.com/
In exchange for 75 years' rights to run the Indiana Toll Road, which spans across the state's northern edge, the state in 2006 got an immediate injection of $3.85 billion. That money is paying for 200 otherwise-stalled roads and bridges projects already.

"No one will ever make a deal this good again," Daniels said, noting reports that Cintra-Macquarie, the Spanish-Australian consortium running the tollway, is close to defaulting on the loans it obtained for the lease.
I sure hope no one else makes this deal. This deal was sweet for Wall Street but not for those motorists who have had to travel on the toll road...
http://motherjones.com/politics/2007/01/highwaymen
But the Major Moves money "means the world to this project, and I think over time the economic impact of the interstate will have a tremendous impact on Southwestern Indiana," said Steve Schaefer, the executive director of Hoosier Voices for I-69.
Yea right. This road will end up costing over $2 million per a job created.
(Note: This study was released before INDOT adjusted the estimated construction cost of I-69 from $750 million to $3.31 billion.)
http://www.commonsensei69.org/documents/I69UICRpt01-00-99.pdf
Remember that article last year the Hoosiers For I-69 published in the Courier & Press that was in response to my letter calling for funds to be shifted from I-69 to high speed rail?....
http://www.courierpress.com/news/2010/may/23/job-creation-is-goal-of-interstate-69-project/
According to the U.S. Department of Transportation, it is estimated that over 47,000 new jobs are created for every $1 billion invested in transportation infrastructure. That alone should convince any opponent that this highway is about job creation and should be a priority during these strained economic times.
Well think again. According to I-69 supporters themselves, this interstate will only create 4,600 additional permanent jobs by 2025 and 4,300 to 7,500 temporary jobs that include construction related employment...
http://www.buildi69.com/?page_id=2
I-69 supporters are only a couple hundred thousand jobs off, and even most of the jobs created will be ones that simply moved over from US 41.
The Heritage Foundation, a conservative think tank, does a pretty good job debunking the myth that highways are good job creators...
http://www.heritage.org/Research/Reports/2004/04/Highways-and-Jobs-The-Uneven-Record-of-Federal-Spending-and-Job-Creation
If you want jobs, build high speed rail...
http://www.infrastructurist.com/2009/05/19/a-vibrant-us-train-industry-would-employ-more-people-than-car-makers-do-now/
http://www.cahighspeedrail.ca.gov/assets/0/152/159/0150b8aa-a61b-4aeb-9c18-6223d8fe429f.pdf
http://fastlane.dot.gov/2009/12/highspeed-rail-to-be-a-us-jobgrowth-engine.html
http://www.hsrupdates.com/news/details/Englewood-Flyover-project-to-spur-job-creation-in-Illinois--313
Heck, even bike routes produce more jobs than highways...
http://www.blueoregon.com/2011/06/want-jobs-dont-think-roads/
http://transportationnation.org/2011/06/22/study-on-job-creation-bike-lanes-beat-roads/
That's why Daniels called Major Moves on Thursday the "jobs vote of a generation."
This right here just proves that Governor Daniels just doesn't get it. Instead of creating an uncontrollable urban sprawl while creating less jobs, Governor Daniels could have put us on the fast track to high speed rail. Why has Governor Daniels sacrificed our future while so many other states are moving forward with high speed rail?...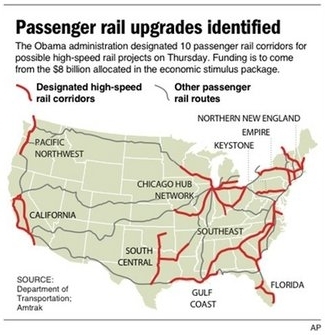 Schaefer said a recent announcement that North American Lighting would become the first tenant of the North Warrick Industrial Park, along the new highway's route, is evidence of the potential for economic development that comes with the new highway.
Wrong again. North American Lighting came here because Toyota is their main supplier...
http://www.courierpress.com/news/2011/jun/25/auto-firm-passes-town-again/?print=1
"They have a large customer that is TMMI (Toyota Motor Manufacturing Indiana, the big assembly plant at Princeton, Ind.)," Sheilley said.

Because of its ties to Toyota, North American Lighting could enjoy "significantly lower income tax rates" by locating the plant in Indiana, Sheilley said. "They were able to reallocate a significant amount of income to this facility" at a tax savings.
Can you guess which road Toyota is on? You got it, US 41!
State Rep. Gail Riecken, D-Evansville, said she is glad to see the I-69 construction moving forward, but that if the state is swimming in Major Moves money, the highway's construction ought not be done on the cheap.

She pointed to an intersection near Petersburg that was chopped out of the project's final plans, as well as the narrower median and thinner pavement that the state chose to trim costs.

"If the money's there, then let's do this right," Riecken said.
That's the whole problem. INDOT does not have the money to build the interstate correctly from Indianapolis to Evansville and then over to Henderson. As a result, we are going to see steeper grades, inferior materials, eliminated or scaled back interchanges, and shorter bridges which will cause flooding. Most importantly, there will be no money left for high speed rail even though it is cheaper, faster, cleaner, greener, more job productive, safer, and healthier for its riders who will be living in walkable communities.
Other than $500 million that is set aside in a fund intended to spin off interest for future road construction projects, Daniels said, more than half of the Major Moves money is already spent. All of it will be in the ground, he said, by 2015.
All funding will be gone by 2015 and we won't have one single track layed for high speed rail and I-69 still won't even be close to being complete. So much for a bright future.
The interesting thing about the whole I-69 debate is that those who support the construction of this interstate have often labeled I-69 opponents as " tree hugging liberal professors in Bloomington."
I'm neither liberal or conservative, but I find it to be highly ironic that we had an I-69 supporter write into the C&P who was indeed a university faculty member...
http://www.courierpress.com/news/2011/jun/29/getting-behind-interstate-69/
While much of the vocal support for this interstate originates from Southwestern Indiana, the environmental impact study confirmed that most of I-69'W economic benefits will accrue to the Indianapolis region.
Correct, it's hard to develop next to an interstate when the road goes through the Patoka National Wildlife Refuge and next to the Hoosier National Forest. When you drive on I-64 East next time, take a look at how many businesses you see located next to the interstate in the Hoosier National Forest land. You won't find too many.
Safer, more efficient access to Indiana's capital would be available to nearly another million people, including the residents of neighboring states.
Safer? The automobile has killed over 500,000 people since 1986. High speed rail on the other hand...
http://www.indianahighspeedrail.org/whyHSR.htm
In over 35 years of operation, the high-speed passenger rail system, carrying over 6 million passengers a day, worldwide, has only had a few minor incidents and one fatal accident.
The difference in high speed rail and interstate fatalities is drastic!
Once completed, Indiana will be part of a direct interstate system stretching from the Great Lakes to Texas, bringing millions of dollars in commerce through the state.
A system which happens to be 84 miles longer than existing roadways...
http://www.commonsensei69.org/latestnews.htm
Bloomington opponents to the highway presume a significant loss of quality of life. In rebuttal, consider that Lafayette and Columbus (Ind.) are on Interstate 65. Not only has that interstate not resulted in a diminution of lifestyle in these communities, it has been a major factor in their continual prosperity.
There are many negative impacts of an interstate...
http://www.alltolled.com/effects.htm
If building an interstate is that productive, then why aren't cities such as Anderson, Marion, and Auburn as big as Indianapolis?
What well-designed U.S. interstate incorporates an unnecessary dogleg into the plan as would be the case with the so-called alternative route? This would be similar to asking drivers in Northeast Indiana to drive over to South Bend and then proceed along Highway 31 to reach Indianapolis. The most efficient highway is one with the shortest line between two points.
All I can say is WOW. If you are going from Evansville to Bloomington which directions will Mapquest give you?...
http://mapq.st/pbLFFV
US-41 N
2 hrs 41 mins / 124.40 miles
IN-57 to US-150 E
2 hrs 41 mins / 124.12 miles
IN-57 to IN-58
2 hrs 41 mins / 119.66 miles
They are literally less than 5 miles apart. If you type in different distances you will also see that...
1. Most of Washington, IN is closer to US 41 than Evansville is to I-64.
2. I-69 and US 41 are only 4 miles apart at I-64.
3. Kentucky is not constructing a "direct route" thus eliminating the whole idea that I-69 will be a straight line from Mexico to Canada.
Why would Indiana want to build an interstate so close to the Illinois border to allow another state to capture much of the job creation of the new highway? Continuing construction of I-69 where it is currently being built will have the effect of affording safe, efficient transportation and offer job generation for more Hoosiers squarely in the job-starved region where it is needed most.
I've done talked about the lack of job creation this road will have and the dangerous conditions it will contain. However, this idea that I-69 will be anything of benefit to Illinois if it was an upgraded US 41 is ridiculous. No part of US 41 goes through southern Illinois, thus anyone going on the road would have to come to Indiana where they would patronize Indiana businesses. Why do you think many of Indiana's casinos are on the borders? We are lucky that our state is able to pull millions upon millions of dollars away from states like Kentucky.
The recent announcement of the closing of the Nordstrom store in the downtown mall is hardly a body blow to a city the size of Indianapolis.
They closed their downtown store because the Indy market cannot support two stores. They constructed the other one in the suburbs of Indy...
http://www.google.com/search?hl=en&source=hp&biw=1419&bih=694&q=nordstrom+indianapolis&oq=nordstrom+in&aq=6&aqi=g10&aql=undefined&gs_sm=c&gs_upl=10202l26340l0l16l16l1l4l4l0l823l2745l0.2.7.6-1l10
If you support I-69, this is EXACTLY what you will be seeing. You will be seeing more downtown stores closing as they move to the suburbs. This is called urban sprawl and it has many negative consequences with very few positive benefits.
With high speed rail, the development follows the stations and the stations are ideally located in downtown. If Indianapolis built high speed rail instead of their many interstates, we'd probably be looking at a downtown Nordstrom still in business.
If those two articles weren't enough, we have been treated to two more this week. The first article of the two was this one...
http://www.courierpress.com/news/2011/jun/27/community-puts-a-smile-on-the-promise-of-i-69/
For those readers who have grown weary of the whiners in Bloomington and Indianapolis who continue to oppose the construction of Interstate 69 through Southern and Central Indiana, we offer the refreshing alternative of Washington, Ind., which has fully embraced the promises that ride on the coming highway.
Whiners? Which side has been complaining for 50 + years that they have to have a "direct route" interstate and are now even complaining about not getting a fully upgraded US 41/Lloyd Expressway interchange?
Washington Mayor Larry Haag said the community is positioning itself to make the most of its link to the I-69 project. In fact, he is so optimistic that he believes the city will double its population of 12,500 over the next 10 years.
Given that I-69 is only projected to create 4,600 permanent jobs, how can Washington, IN be expecting 12,500 more people in their town?
Many in Washington appreciate the opportunity to connect for the first time to a modern transportation link. They have been for a long time, thanks to David Graham of the Washington family of industrialists, farmers and entrepreneurs. After retiring from farming, Graham took interest in the long-talked about highway and began drumming up support among business leaders. Some say a breakfast meeting Graham organized in the spring of 1990 is where today's developing I-69 project was launched.
David Graham is NO hero. In fact, he's set to have most of his land developed due to I-69...
http://www.bloomingtonalternative.com/node/10532
The optimism in Washington today is probably well founded. The city is ideally located an hour north of Evansville, about halfway between Evansville and Bloomington. It is a good potential stop for travelers seeking service stations, restaurants and motels.
The last thing we need is more urban sprawl. If we had high speed rail, we would have residents living in Washington and commuting to Evansville. Talk about a population flux! Most importantly, the areas around the stations would be fully developed in a Smarth Growth fashion. That is what we need to be building, not more urban sprawl.
Today, we did receive some good news!...
http://www.courierpress.com/news/2011/jul/06/no-headline---ev_i69lawsuit/
A Bloomington group notified state and federal officials this week that if their environmental concerns are not addressed, the group will sue in order to ask a judge to force the issue.
I've heard about this lawsuit for awhile now and I'm very thrilled to see it come to fruition. It's about time our government had respect for our environment. There is absolutely no reason why US 41 can not be upgraded at least to Vincennes where it could cross over to Bloomington and save a lot of money.



Meanwhile, the state is soon expected to finalize plans for the fourth section, which would move the highway up to Bloomington.





Martinsville, Bloomington, and Indianapolis are all against this road, INDOT does not have all of the funding for a full I-69, and now INDOT is facing multiple lawsuits for their desire to destroy our environment. Yet, the Daniels administration is still trying to move forward? Doesn't make sense AT ALL.
The most disappointing thing about these past five years is that while the rest of the US is finally starting to join the rest of the world in building high speed rail (even IRAQ is planning for high speed rail), the Daniels administration has insisted that we stay 50 years behind.
Since the beginning of the I-69 debate, I-69 supporters have insisted that this road should have been built 50 + years ago. But now, they are willing to sacrifice our future high speed rail, sacrifice our environment, and sacrifice most of I-69 just to build what little they have built.
The following red lines are areas in Indiana that are currently planning for high speed rail. Guess which area is the only area not planning for high speed rail?
(photo credit: accessIndiana)
Sooner or later, southern Indiana will have no choice but to join the rest of the world and now US in planning for high speed rail. When that day comes, it will finally be clear just how far we have gotten behind once more. All we have to do is upgrade US 41 to I-70 and we will have both an I-69 as well as plenty of funds to start planning for high speed rail.
Why can't we all win?
(photo credit: www.giselastuartmp.co.uk)